Our Story
What does our country need and how can we help?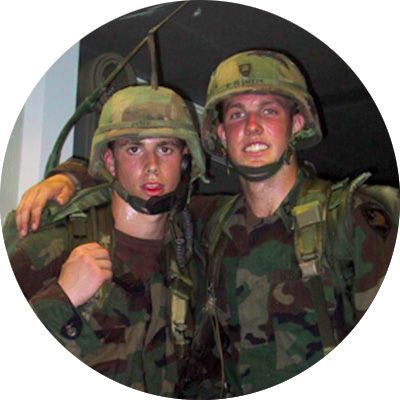 We're Mike and Jeff, the proud co-founders and leaders of The Positivity Project, also known as "P2." We both graduated from West Point and deployed to Iraq and Afghanistan a combined five times for 52 months. But our desire to serve the nation didn't end there. In fact, it was just the beginning.   
After leaving active duty, we asked a simple question: What does our country need and how can we help? We determined that, pound for pound, we could make the biggest impact by empowering America's youth to build positive relationships by seeing the good in themselves and others.
That's because our capacity to build strong character-based relationships is the cornerstone of health, happiness, and resilience – and will be crucial in meeting the challenges of the future.
(NOTE: For the complete P2 founding story, written by Christine Fennessy, please click here)
Our inspiration is Dr. Chris Peterson, one of the founders of positive psychology and Mike's thesis advisor at the University of Michigan. Dr. Peterson often began lectures by stating, "I can sum up positive psychology in just three words – Other People Matter. Period. Anything that builds relationships between and among people is going to make you happy." Dr. Peterson passed away suddenly in October 2012, and we are proud to carry on his legacy, through the research on character and relationships he led for over a decade.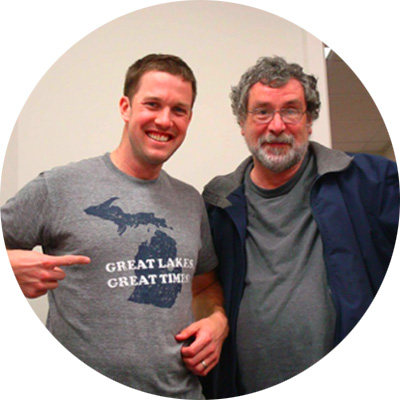 February 18, 2015, would have been Dr. Peterson's 65th birthday. On that date, we launched a Facebook page in honor of him and shared quotes, articles, and videos that exemplified the 24 character strengths. Within two months, Marc Herron, a childhood friend of Mike's who was teaching second grade at Morgan Road Elementary (MRE), reached out and said, "We need The Positivity Project at my school."
Mike quickly put together an overview of how to teach each strength. He then led a training, via video chat, with Principal Brett Woodcock and the school's character education committee of Sarah Angotti, Meg Hurley, Amy Figger, and Marc.
MRE took P2 and ran with it. When we visited in November 2015, teachers told us that this was the best way they'd ever taught character – and had a huge impact on students' relationships in just two months. After hearing more powerful personal stories from students, teachers, and parents, we knew it was our duty to bring the P2 to schools across the country.
In growing P2, we use powerful lessons learned from our deployments. We follow the simple guidelines that autonomy is crucial and you must trust the person on the ground.
Each school and every classroom is different. Instead of a mandatory pedagogy and curriculum, we provide easy-to-use and engaging resources — and then trust educators in the classroom to implement P2 in the most impactful way possible. Empowering teachers to master the 24 character strengths language and concepts – and equipping them with resources – drives success in classrooms and schools.
Educators at our Partner Schools have fueled P2's growth. Teachers are servant leaders dedicated to empowering students everywhere. When they see something that works, they want others to join and thrive. And they're telling us that P2 works.
P2 is a movement driven through organic word-of-mouth growth. #P2Catalysts in one school or district talk about P2's impact at their school and recommend it to others. That is why we grew from one Partner School in 2015, to 33 Partner Schools in 11 states in 2016, and are now partnered with over 830 schools in more than 20 states.
The Positivity Project aims to reach 10,000 schools and 5 million students nationwide by 2030.
The premise is simple, but the results will be profound.
Together, we will create citizens and leaders who will enhance our communities and country by focusing on character strengths and positive relationships.