Why Relationships?
Our mission is to empower America's youth to build positive relationships and become their best selves.
Why relationships? Because they are the cornerstone of health, happiness, resilience…and (according to experts) many jobs of the future. That is why we developed a strategy that schools use to inspire positive relationships (student-to-student and student-to-teacher) and cultivate school-wide #PositivityInAction.
The Problem
The research is clear. Our ability to build positive relationships is under assault.
Narcissism and Empathy
Between the early 1980s and late 2000s, narcissism in college freshmen
increased by 30%
and empathy
decreased by 40%
, according to separate studies from San Diego State University and the University of Michigan.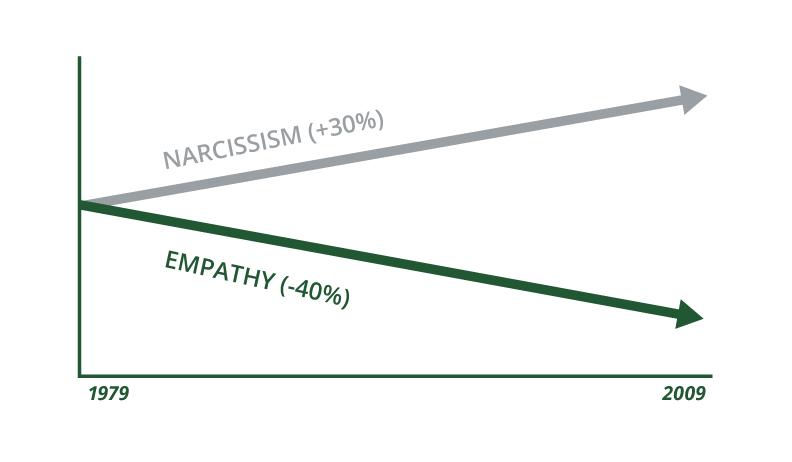 Teen Loneliness, Smartphones, and Social Media
In 2021, Dr. Jean Twenge and Dr. Jonathan Haidt 
presented research
 showing that loneliness among 15-year-olds sharply increased worldwide beginning in 2012. They attribute this increase to the rise of social media, 
explaining
, "2012 was the first year that a majority of Americans owned a smartphone; by 2015, two-thirds of teens did too. This was also the period when social media use moved from optional to ubiquitous among adolescents."
Loneliness in America
Between 1985 and 2004, Americans' number of close friends or people that they could "discuss important matters with"
dropped from 2.94 to 2.08
. People who said they had no one to discuss important matters with more than doubled, to nearly 25 percent. And,
a 2018 study of 20,000 adults
, found that loneliness is an "epidemic" in America with 18-22 year-olds the loneliest of all generations.
Why are relationships so important?
Positive relationships are the cornerstone of health, happiness, resilience…and jobs of the future.
Health and Happiness
Harvard University has a
nearly 80-year ongoing study
that followed 724 men, from two different socioeconomic cohorts, across their lifespans to track health and well-being. The director, Dr. Robert Waldinger, summarized their findings: "The lessons aren't about wealth or fame or working harder and harder. The clearest message that we get from this study is this: Good relationships keep us happier and healthier. Period."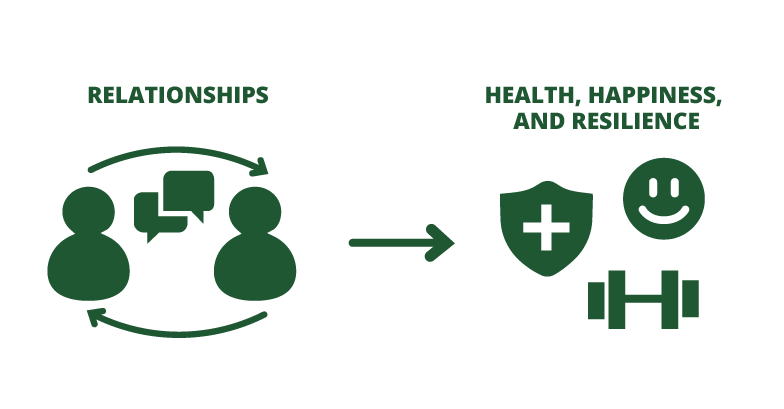 Harvard University Study on Adult Development
Resilience
The National Scientific Council on the Developing Child (NSCDC) at Harvard University
had a simple question: Why do some children do well and show resilience, despite exposure to stressful circumstances and hardship? Their answer: "Resilience requires relationships, not rugged individualism…The single most common finding is that children who end up doing well have had at least one stable and committed relationship with a supportive parent, caregiver, or other adult."
Jobs
Researchers at Oxford University
estimate that 47% of U.S. jobs are at "high risk" for being automated within the next 10-20 years. Research out of MIT reinforces these findings, forecasting that technology's impact on employment "
will only accelerate
." The
MIT researchers predict
the following skills will be in the highest demand as we move into the future: persuasion, negotiation, and group dynamics; framing and solving open-ended problems; applied math and statistics; sound writing; and human interaction and nurturing.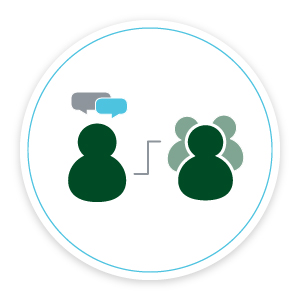 Persuasion, Negotiation, and Group Dynamics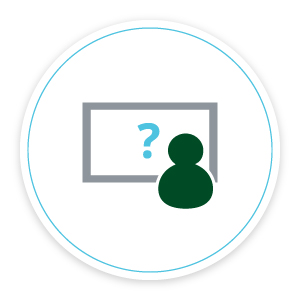 Framing and Solving Open-ended Problems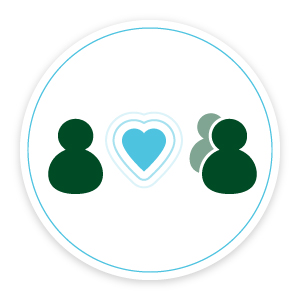 Human Interaction and Nurturing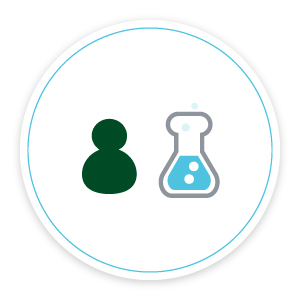 Applied Math and Statistics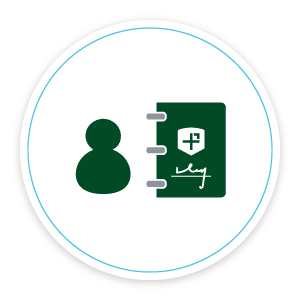 Our Model
Grounded in character strengths research.
Consistently focusing on all 24 character strengths helps students — and adults — develop self-awareness and empathy. This leads to positive relationships and a more positive school culture — that enhances teachers' ability to teach and students' ability to learn important subjects like math, science, social studies, and English.
The Evidence
Supported by strong empirical evidence.
The Positivity Project meets the criteria for a Tier 2 evidence-based intervention under ESSA.
A paper published in the International Journal of Education about P2 Partner Schools at the elementary and middle school level show that students reported significantly greater feelings of having quality relationships with others. When asked to name their favorite part of P2, the most frequent response from students was, "It makes me feel understood." Read the summary here. Read the full paper here.
A paper published in the International Journal of Emerging Trends in Social Sciences highlights P2's impact in elementary, middle, and high schools. As one educator explained, "I can honestly say I have never felt so good about a character education program in my teaching career. I can actually see this program working every day. Each week that we touch on new strengths, we are all reminded of our potential to be better human beings. We have truly seen a transformation in our program since we began using The Positivity Project…We have watched kids transform again and again, from disrespectful to respectful, from challenging to cooperative, and from ungrateful to grateful, just by modeling appropriate behavior, sharing learning experiences, and using character strengths to build relationships."