How to Implement P2 PBL
P2 Project Based Learning: Supporting the P2 Mission
The P2's Weekly Slide Presentations, which classroom teachers use for daily character strength instruction, focus on three sequential components: UNDERSTAND, ENGAGE, REFLECT
However, the P2 PBL process focuses on five sequential components: ENGAGE, INQUIRE, CREATE, REFLECT, SHARE
This process will be universal for all of the P2 PBL units, from grades K–12. The PBL process is a system for thoughtful problem-solving. As students become familiar with the steps, they will be able to transfer the system to other challenges they face in life. Students who engage in rigorous PBL will develop the skills they need to truly become life-long problem solvers.
*Note: PBL units can be completed independently or in a group. Educators will decide based on the needs of students and teachers. However, through the reflection stage, collaboration will be practiced in every project, whether group or individual.
Implementing P2 PBLs
The classroom culture that emerges through PBL naturally fits into The P2's mission of empowering students to build positive relationships. It will also advance students' understanding and application of the 24 character strengths and the Other People Mindset: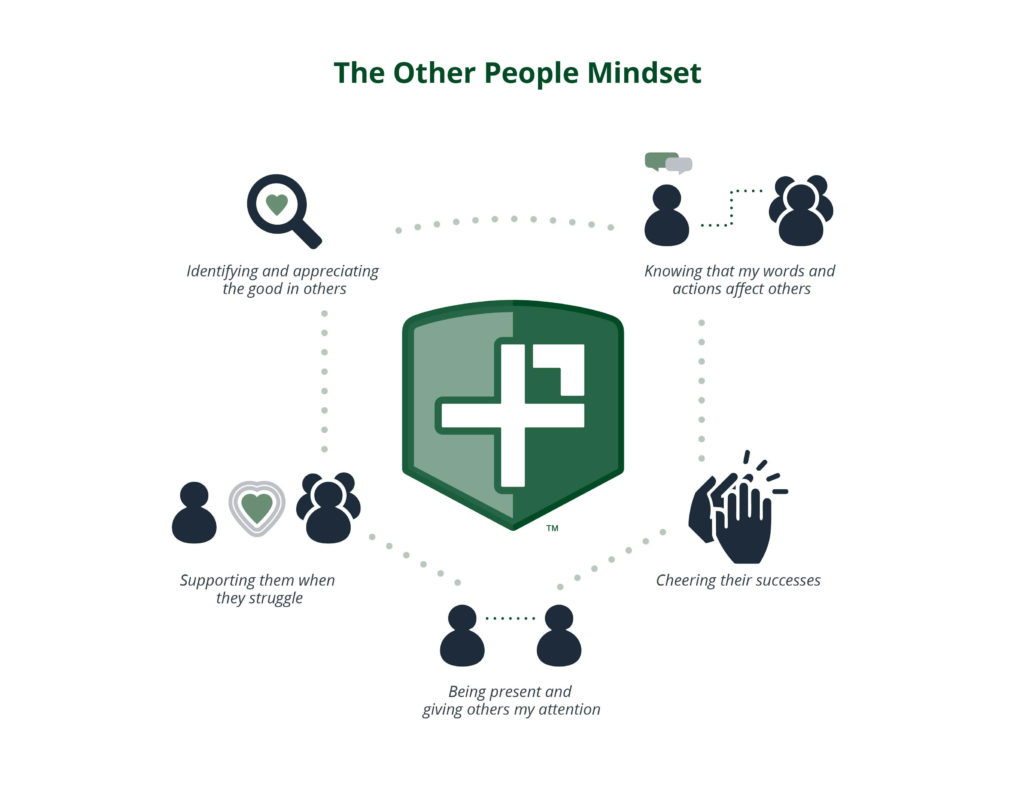 5 Components of P2 PBLs
ENGAGE
Students will be exposed to an engaging and authentic challenge of helping other people better understand the importance of character strengths and positive relationships. The challenge will offer personal connection, relevance, and choice.
WHAT IT LOOKS LIKE IN THE CLASSROOM:

It's best to do this in-person or via a whole-class virtual meeting. Use this to pique students' interest and activate background knowledge. Students might be shown pictures or videos — or asked thought-provoking questions. 
Keys to success include:
Open-ended project question (always a real-world project)

Establish some need-to-knows

Set project parameters (due dates, expectations, options, etc.)
*Note: These steps will be clearly outlined in the introductory slides, making implementation easy, regardless of familiarity with PBL.
INQUIRE
Students will explore the topic by gathering information and researching in a variety of ways. Graphic organizers will be used to support student research and help teachers formatively support students.
WHAT IT LOOKS LIKE IN THE CLASSROOM:

This component is dependent on the age level. Teachers will likely use direct lessons for younger students and research graphic organizers for older students. The need-to-know list will drive research needs, as the goal is for research to become student-driven. 
Some recommendations include:
Teacher-directed lessons

Station-based opportunities

Student-led research, technology

Expert interviews
CREATE
Students will make or propose a unique solution that synthesizes what they learned. The product may be a variety of options set up by the teacher or class.  
WHAT IT LOOKS LIKE IN THE CLASSROOM:

Most projects can be assigned as independent projects to be completed at home. However, teachers can assign group projects if they set up meeting times for the student groups to interact in-person/virtually.
Students will propose or create a solution to the original problem. Examples include: Presentations, debates, websites, TED Talks, apps, social media campaigns, PSAs, plays, exhibits, visuals (or anything done in the real-world!)
REFLECT
Students will go through structured opportunities to reflect on their work, both formatively and summatively.  Students will be encouraged to use feedback to improve the quality of their product.
WHAT IT LOOKS LIKE IN THE CLASSROOM:
Teachers should create opportunities throughout the project — and at the end of the project — for students to reflect on their work and possibly go back and make changes. This can be an iterative process — just like in the real world. Students will learn to give and receive valuable feedback from many stakeholders, including:
Student self-reflection

Peer feedback

Teacher check-in and feedback
SHARE
Students will share their products with an audience, who will be active listeners and provide feedback. This can be in person or virtual.
WHAT IT LOOKS LIKE IN THE CLASSROOM:
Teachers will establish routines or presentations with the audience.  Students will practice communication and presentation skills and should refer to the presentation checklist to build skills for success.  
The teacher could increase the authenticity of the presentation by including higher stakes, outside-of-school stakeholders. The project parameters of each unit will include a variety of options for the teacher to consider.
Audience role: The audience can use graphic organizers to support them in providing feedback or guiding questions for the presenter.
The audience could range from:
Peers

Other classes

School leaders

Parents

Professionals

Community members