How It Works
We equip Pre-K-12 schools with digital resources, training, and strategy to teach positive psychology's 24 character strengths and empower their students to build positive relationships.
Step 1
Partner
Once a school becomes a Partner School, they unlock access to The Positivity Project's resources, training, and strategy. This includes staff-wide access to 32 weeks of grade-level differentiated Tier 1 slide presentations for daily 15-minute lessons – and much more.
Step 2
Resources
P2's Tier 1 daily 15-minute digital lessons, shared via Google Slides, are zero-prep and easily delivered by any teacher. These lessons include videos, activities, and follow-up questions to facilitate classroom discussions. Partner Schools also have access to Tier 2 and 3 resources, P2 for Families, P2 for Educators, P2 PBL – and more.
Step 3
Training
By using our online P2 100 Video to lead a staff-wide training, educators will have the knowledge and confidence necessary to teach their students positive psychology's 24 character strengths. We also offer in-person training opportunities.
Step 4
Strategy + Support
Our Implementation Strategy Playbooks help your school develop a plan to consistently teach character and relationships. These playbooks are differentiated for elementary, middle, and high schools. Plus, we provide ongoing support for all your implementation questions and needs.
Why it Works
The Positivity Project's emphasis on consistency is grounded in research from child psychology and neuroscience. As the adage goes, "Neurons that fire together, wire together." Learn more about our model here.
Our Model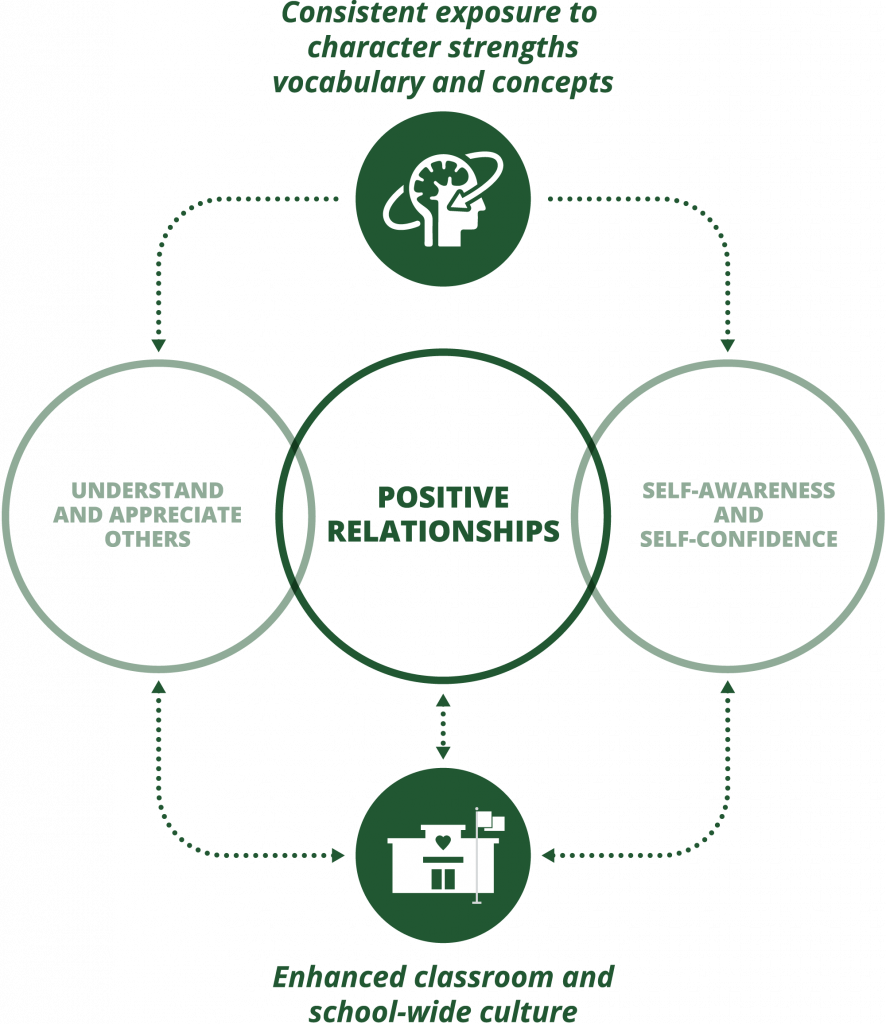 What is Positive Psychology?
Positive psychology is the scientific study of what makes life most worth living — and maintains that what is good in life is as genuine as what is bad. Positive psychology's 24 character strengths are grounded in extensive research that resulted in the landmark 800-page book Character Strengths and Virtues.
Character Strengths and Virtues presents evidence that all 24 strengths exist in every person — and in all cultures of the world. Character strengths define who, not what, a person is. Ranging from bravery and forgiveness to integrity and gratitude, these character strengths are the foundation of The Positivity Project's model.