Relationships
Character
Community
Empower your students to build positive relationships and become their best selves in just 15-minutes a day. #PositivityInAction
Strengths-based. Standards-aligned. Research-driven.
Easy, Aligned, Comprehensive
Teachers love The Positivity Project's zero-prep Tier 1 daily lessons. In just 15 minutes a day, The Positivity Project helps schools and districts develop a common vocabulary and self-aware, empathetic students.
Our Pre-K – 12 Tier 1, 2, and 3 resources are comprehensive, standards-aligned, and remarkably easy to use. The Positivity Project's resources, strategy, and support will enable you to build a positive culture — through character and relationships.
Resources Overview
Curriculum Alignment
24 Character Strengths
The Positivity Project is different — because we're grounded in positive psychology's 24 character strengths. These strengths apply to all individuals and align with school values nationwide.
Every single character strength is important — and they provide classrooms, schools, and districts with a broad common vocabulary to discuss the good in individuals. P2's grade-level differentiated resources provide scaffolded definitions, examples, and activities to empower students from PreK-12 to understand and apply character strengths in their lives.
Character Strengths
P2's Evidence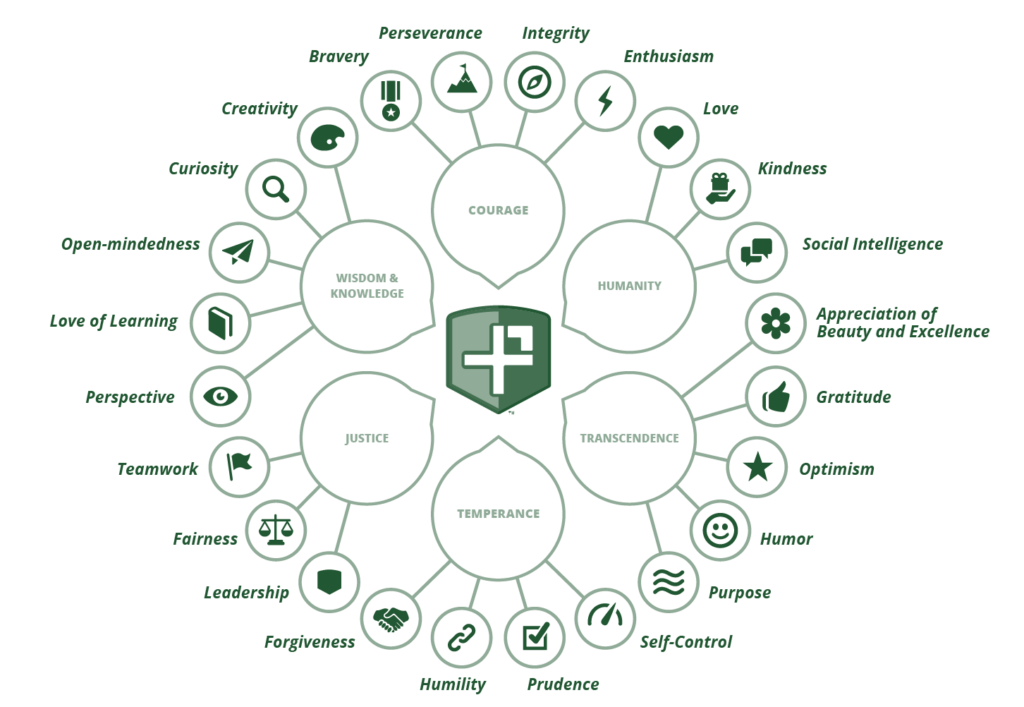 Daily Lessons
Educators have more on their plates than ever. That's why our Tier 1 daily lessons are designed to be zero-prep for teachers, engaging and impactful for students — and take just 15 minutes a day.
160+ daily lessons are differentiated for grades Pre-K – 12 and last for 32 weeks of the school year. The common school-wide vocabulary, developed through consistency, naturally weaves throughout the entire school day.
Annual Calendar
Resource Guide
Kindness and humor. Being kind not only makes others feel better but it makes you feel better. And, you need some humor sometimes to get through hardships.

8th Grade Student, J.M. McKenney Middle School
Founding Story
"What does our country need and how can we help?" This was the question our co-founders, Mike and Jeff, were asking themselves as they left active duty after a combined 52 months deployed to Iraq and Afghanistan. The Positivity Project is their answer to that question.
Learn more about our philosophy, our impact, and why we believe in our mission to empower people to build positive relationships and become their best selves.
Of This, I'm Positive
We carry the lessons we learn in school for a lifetime. Among the most important of those lessons are integrity, humility, bravery, perseverance, self-control, and teamwork. Of This, I'm Positive is a video series that highlights the importance of character strengths within and beyond the school walls.
Partner School Stories
Hear directly from educators about why focusing on character strengths and positive relationships is so important.
P2 for Families
Connect Learning to Students' Homes
P2 for Families is an easy and effective way for families to discuss the importance of character strengths and positive relationships. It is differentiated for grades Pre-K-2, 3-5, 6-8, and 9-12. Each character strength follows a 1-1-3 model: 1 quote, 1 video, and 3 questions to drive conversations around character at home.
'Do something every day that scares you' - 8th Grade Student Reflections
One girl, who most would consider to be shy, stood and talked about the role bravery played in helping her through middle school. A young man with Downs Syndrome stood and talked about how he learned kindness from his best friend–and then, of course, his best friend got up and talked about how much the friendship meant to him. Over and over, the words of our students hit deeply and resonated with us all.
Read More
Perseverance and Perspective have been major strengths that helped me handle social and educational challenges. Being reminded that things will pass and that I have the ability to grow and learn from them have been incredibly helpful.

8th Grade Student, J.M. McKenney Middle School

Kindergarten students were raising their hands and using the words "Integrity," "Perseverance," and "Gratitude"…Ms. Saleh's students use these words with such tenacity and it seems so natural to them.

Heather Sutton, ELL Teacher at Douglas Elementary

P2 aligns perfectly. The delivery of the program is engaging, mindful of student attention spans, well suited to fit into the school day, and elicits thoughtful responses.

Ann Spring, 2nd Grade Teacher at The Academy at Belle

Using P2 lessons in my classroom definitely helps my students, but I feel like it also helps me be a better person.

Tina Shilling, 6th Grade Teacher Central Elementary

I can honestly say I have never felt so good about a character education program in my teaching career. I can actually see this program working every day. Each week that we touch on new strengths, we are all reminded of our potential to be better human beings. We have truly seen a transformation in our program since we began using The Positivity Project.

Peggy Gordon, High School English Teacher

In 31 years of education, 13 of them as an administrator, The Positivity Project has truly risen above and beyond anything I've experienced.

Kim O'Donnell, Ph.D., Principal at Buxton Center Elementary

The Positivity Project has the potential to shape the culture of an entire middle school in a way that brings people together, provides identity, and acts as the foundation for many other school efforts. When implemented purposefully and consistently, P2 opens the door to the place students and staff want to be.

Joe McDonough, Principal at J.M. McKenney Middle School