Weekly Slides
Week 10 - OPM2 Knowing My Words and Actions Affect Others
By Jeff Bryan
Being kind to someone has the potential for changing someone's entire day. It has the potential to change someone's entire life.
-Kerri Walsh Jennings
For the P2 Reflection Journals, used by all elementary students at the end of the week, click here.
Starting Monday, Partner Schools begin this year's third week of the Other People Matter Mindset (OPM2). Students will be specifically focused on the OPM2 element of "Knowing that my words and actions affect others."
This means that everything we do, say, text, tweet, snap, or post can positively or negatively impact other people. According to research from McKinsey & Co, "the typical American hears or reads more than one hundred thousand words every day." Think about that for a moment: 100,000 words every single day. Now, stop and ask yourself, "Are the percentage of words someone else hears or reads from me helping or hurting that person?" As Rachel Wolchin says, "Be mindful with words. A string of some that don't mean much to you may stick with someone for a lifetime."
And, moving beyond our words and social media posts, our actions can have ripple effects long after we make them. Deeds highlighting our character – such as forgiving a sibling, being present and enthusiastic about a colleague's presentation, or kindly holding the elevator door for a stranger – can impact the people we love, work with, or even just bump into on the street. Through your actions – and the character strengths you do/don't exemplify in them – you have the power to make somebody happy, sad, inspired, or discouraged. And, always remember, our words and actions are our choices to make.
This week, we're highlighting founding P2 Board Member Kerri Walsh Jennings. You may know her as a professional volleyball player and founder of the pro volleyball league p1440 — or as a 3-time Olympic gold medalist in Beach Volleyball. But what Kerri tells us she's most proud of is her character. And, getting to know her these last few years Kerri's focus on character is obvious; it clearly shines through her words and actions. As the below video (from the early days of the P2) highlights, she is always looking to positively impact people's days and lives — and wants to surround herself with people who do the same.
So, why does this matter?
On an individual level, our words and actions impact our relationships with other people. They have the power to lift others up or tear them down. But, our words and actions also impact ourselves. If I am consistently speaking or acting with an entitled, arrogant, or mean attitude, I'm going to find it tougher to tap into and exemplify the character strengths of gratitude, humility, and kindness.
When a group is comprised of individuals who are thoughtful about their words and actions; individuals who show respect and consideration for the people around them – we're likely to have a happier and healthier culture.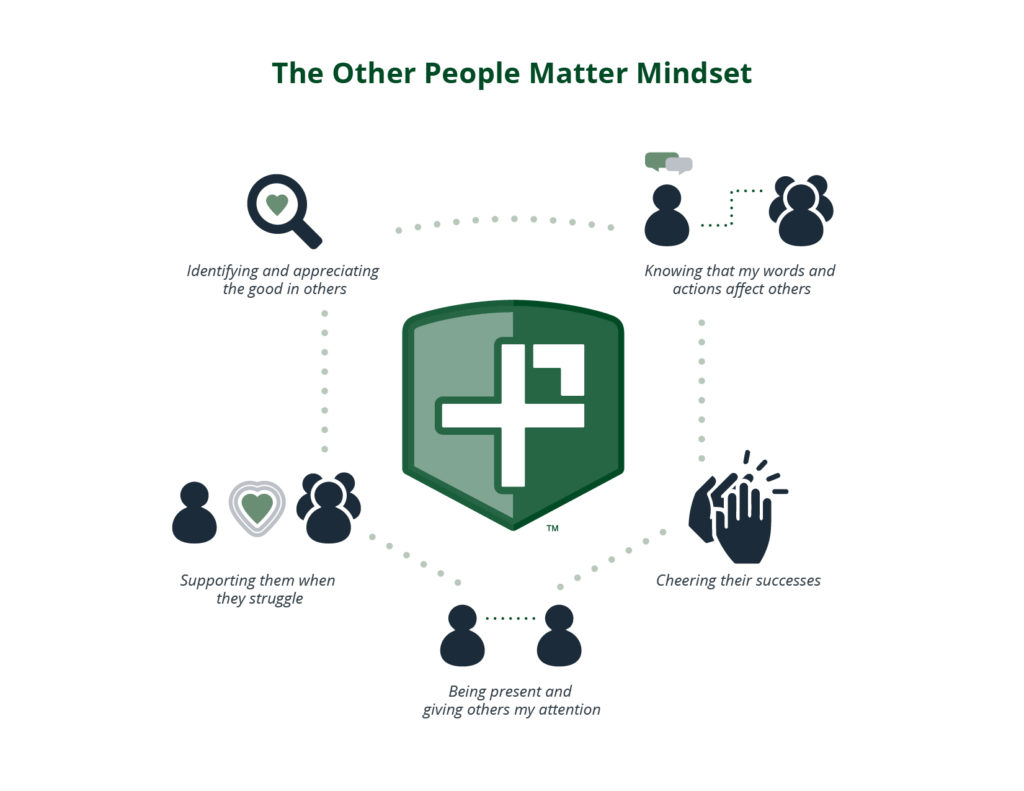 And, as a reminder, you can find all of our weekly slide presentations on our website's Resources page here. This page is the place that we recommend you go to access all of the resources — not via Google Drive folders.
To find your grade level's presentation, you can simply type "opm2 words and actions" into the Resource Title search bar or sort by Character Strength and select OPM2 Words and Actions. Each of those options will provide you with 10 differentiated slide presentations. For a simple overview of the Resources page, with pictures and videos, click here.