P2 News
3 Clicks to Success with P2 Resources
By Frank Adamo
We've had a lot of people ask about how to best navigate the 400+ resources available on our website.  We've tried to build a
resource database
that is both useful and easy to navigate, and we hope that you agree. And, as you'll see below, we've created a system that allows you to access any P2 resource that we have posted in just
3
clicks — from anywhere on the internet.
The Problem: How Do We Access P2 Resources

? 
To start, please know that, in order to have full access to these documents, you will need to be logged into your school-based Google Drive account. And, for schools that do not use Google Drive, you will need to be logged in to the specific P2 account that we have set up for you.  If you are not browsing as a logged-in user within one of those browsers, you will see the standard Google Permission Wall: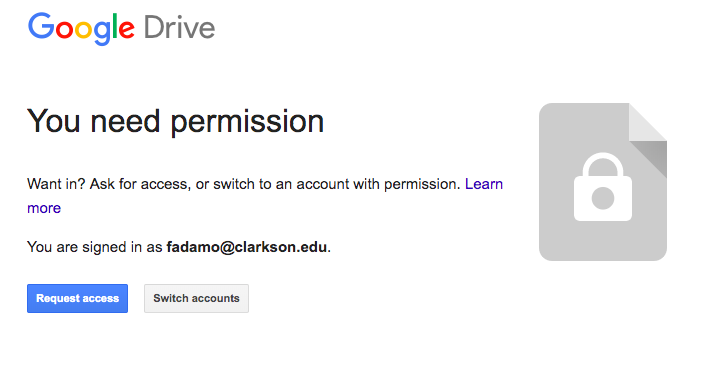 If you click that "Request Access" button, your request will be sent to our Partner School Success Specialist, Denise, and she will reach out to you with next steps about how to fully access materials.  However, no Partner Schools should ever come to this access wall — as we have created a "Google Group" for each P2 Partner School and all of that school's staff members.
The Solution: Access P2 Resources in Just 3 Clicks
From anywhere on the internet, you can access any specific resource that we have posted in just 
3
clicks
.
Click 1: Please bookmark the P2 Resources Database.  You will find it at www.posproject.org/resources.  Once this is bookmarked, you will see the link on your bookmarks bar, and 1 click will get you directly to our database.
Click 2: Once you're on our Resources Database, please use the top right-most dropdown menus to narrow your search by "character strength".  Choose the character strength of the week or any one of the other 24 strengths that you are working with.
Click 

3

: Once you've selected the character strength, use the dropdown directly below the "character strength" to access your grade level.  Once you have selected these two dropdown options, you will have access to the specific slide deck that you are looking for.
Why Not Just Use a Google Drive Folder?
Because our platform is run using Google Drive, we get asked this a lot.  And there are two specific reasons why we don't go through a Google Drive folder.  First, we are constantly moving files within folders, renaming folders, and adding/deleting subfolders.  There is no way to guarantee our 20,000+ teachers that the information they are looking for will be in the same place tomorrow.  Also, clicking through folders is more time-consuming than using our dropdown database to find and access our materials.
We look forward to providing you with great P2 content throughout the year, and we can't wait to see all of the amazing things your students accomplish this year.  Congratulations on the start of another great year with The Positivity Project!