Financials
The Positivity Project is a national 501c3 nonprofit organization. Being a nonprofit means that no one "owns" The Positivity Project. A Board of Directors governs our operations and the revenue we generate is directed towards achieving our mission.

Financial transparency is paramount to us. As a Partner School, foundation, or individual supporter, we are committed to showing you how your money is used to impact Partner Schools nationwide. Please see below for all of our organization's financial information, to include an independent Guide Star Review.
How we generate revenue
We generate revenue, which allows us to work to achieve our mission, through school partnerships, training, grants, donations, and gear sales.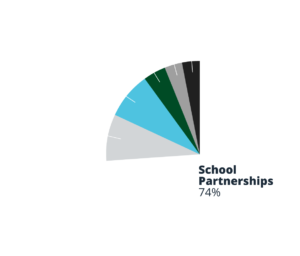 GuideStar is the world's largest source of information on nonprofit organizations.
Learn more about our finances at Guidestar.
Learn More
The Positivity Project is a nationwide movement focused on character and relationships.
We all face adversity in our lives. Positive relationships and character strengths help us get through those tough times — and often come out even stronger.